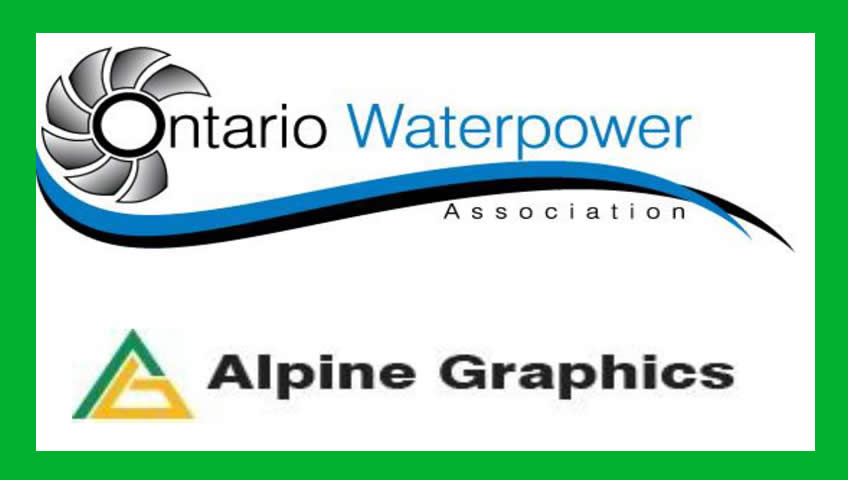 OWA Partnership
For immediate release
New Partnership in Public Safety Around Dams
OWA and Alpine Graphics Team up to Deliver Standard Signage
April 16, 2012 – Toronto – The Ontario Waterpower Association (OWA) and Alpine Graphics Ltd are pleased to announce the establishment of a new business relationship focused on advancing public safety around dams. The initiative is in response to the modernization of dam safety and public safety guidelines, introduced by the Ministry of Natural Resources (MNR) in August, 2011.
"I am really looking forward to working with Alpine", said Paul Norris, President of the OWA. "Our members, the broader community of dam owners and the public will benefit from this relationship."
"Our company has been providing top quality products to waterpower facility owners for many years", said Ian Middleton, Managing Director of Alpine Graphics. "A key focus of our business is public safety."
"I commend the proactive measures taken by the waterpower industry and other dam owners across the province", said the Honourable Michael Gravelle, Minister of Natural Resources. "Creating consistent visuals through standard signage helps reinforce our safety message."
The modernized "Technical Guidelines" under the Lakes and Rivers Improvement Act were introduced in August, 2011. The OWA issued a Request for Proposals to prospective service providers and selected Alpine Graphics, an Ontario based manufacturer, through a competitive process. The OWA and Alpine will be launching a web-based catalogue to allow all dam owners across the province "one-window" access to standardized signage meeting MNR's technical guidelines. Orders will begin to be accepted in May, 2012.
Made in Ontario waterpower is the most cost-effective, reliable and durable source of electricity. More than 5,000 MW of untapped economic waterpower potential has been identified in Ontario. Only one-quarter (1/4) of Ontario's dams are currently used for waterpower production. For more information, contact Paul Norris, OWA President at 705-743-1500.